Sending Professional Access Requests
If your client already has an account on OurFamilyWizard, you can send them a professional access request through the OFW iOS app. 
In this tutorial: 
Connecting to clients already on OFW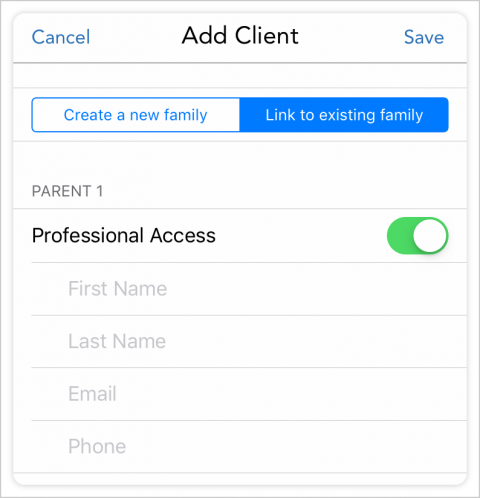 Navigate to My Cases.
Tap either the + sign in the top right corner or the Add Client button if using the app through your iPad. The Add Client form will pop-up and Create a new family will be selected by default.
Select Link to existing family at the top of the Add Client form. 
Even if you are only requesting access to one parent in the family, provide the first and last names for both parents. 
In the Professional Access row for each parent, toggle whether you'd like to request access to their account. 

If you are requesting access, provide an email address for the parent, preferably the email address they already have associated with their OFW account. Phone number is optional.
If you are not requesting access, you do not need to provide an email address or phone number. 

Tap Save in the top right corner. 
Any client to whom you have requested access will be sent an email with a link to respond. Your request will remain at the Requested status on your My Cases page until the parent responds.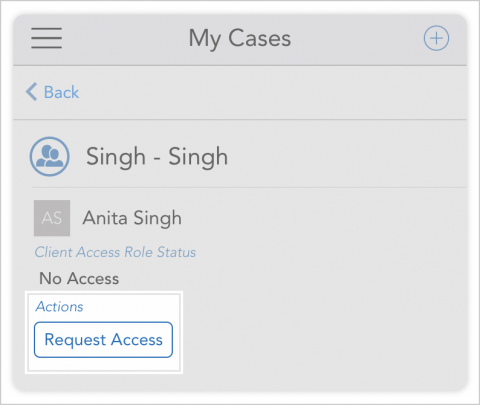 Connecting to the other parent in a family
Once you have sent a request or have connected to one parent in a family, connecting with their co-parent is simple if you need to do so in the future. Note: You do not have to use the Add Client form in these instances. 
In My Cases, select the family. 
Under Actions for the co-parent, you'll see the option to Request Access.
Tap Request Access to immediately send a request to the parent.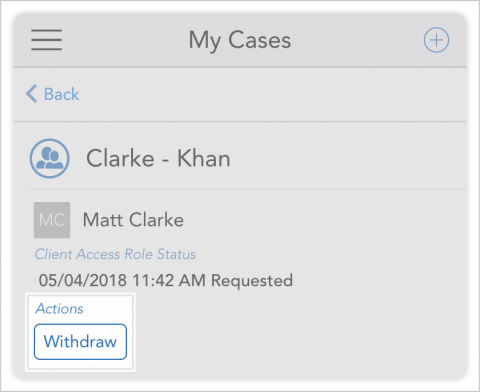 Withdrawing an access request
If you accidentally send a request or no longer require access to a client who has not yet responded to a pending request, you can withdraw the request easily from the mobile app.
Navigate to My Cases.
Select the family of the parent with the pending access request. 
Under Actions, tap Withdraw. Your access request will be immediately withdrawn from the parent's account.