Responding to professional access requests
Clients are able to send a request for you to access their account on OurFamilyWizard, and responding to their requests is simple on the iOS OFW Family Law Practitioner app. 
In this article
Responding to an access request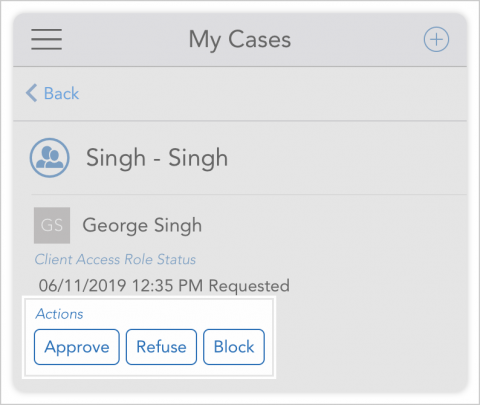 Note: You are only able to immediately respond to access requests through the iOS app if clients created their access request using the email address you have on file for your OFW practitioner account. If they used an email address other than the one on file with OFW, follow these instructions instead.
To respond to an access request,
When signed in to the OFW Family Law Practitioner app, your home screen will display the number of pending access requests you have waiting for you. 
Click on the notification of the pending request on the home screen to navigate to My Cases. 
Select the client's family from the list of families to whom you are connected. The client access role listed below the client's name will show Access Requested. 
You will see three options for responding to the access request.

Approve: Approving the request will give you immediate access to the parent's activity and communication history on OFW. 
Refuse: Refuse the request if you do not wish to see the parent's activity on OFW.
Block: Blocking the request inactivates the request and prevents the parent from sending requests in the future. 
Unblocking a parent
Navigate to My Cases and select the family from your list of connections.
Under Actions below the parent's name, tap Unblock. 
Unblocking a parent reactivates their initial access request. At this point, you are able to respond to the original request by approving or refusing it or blocking it again.
Accidentally refusing an access request
If you've tapped Refuse on a client's access request, unless you have pending requests or access to their co-parent, you will no longer see them listed in your My Cases list. In order to gain access to their account, you will need to send an access request from your OFW account or instruct the client to send you an access request from their end. 
> Get instructions for your client to send an access request