One-Time Events on the OFW Calendar
Learn how to create, update, and remove one-time events with the following tutorial. For help with managing repeating events, click here. 
In this tutorial:
Creating a One-Time Event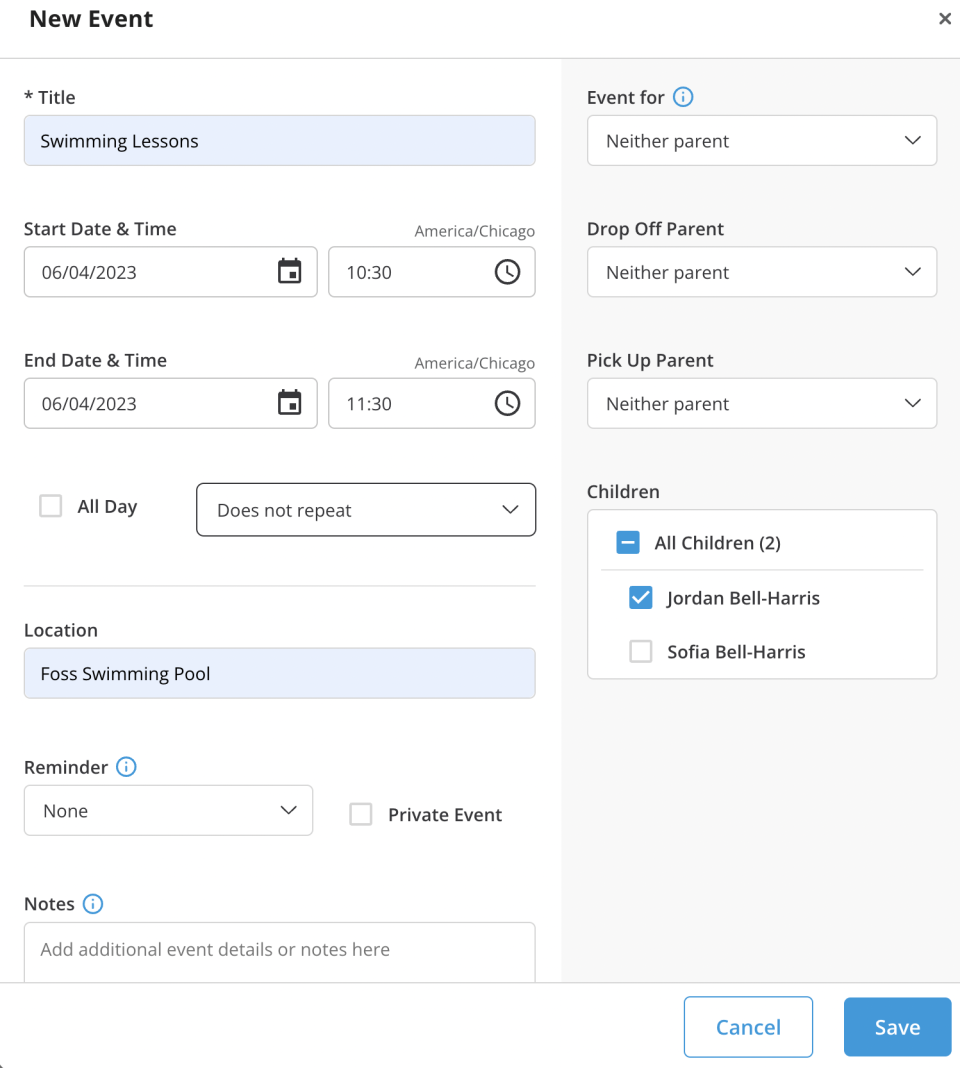 Navigate to the Calendar. 

Click the New Event icon.

Complete all required fields, which include a title for the event, a start date and time for the event, and end date and time for the event. All other fields are optional, but you are encouraged to fill out these fields.

All Day: If the event you're entering is scheduled for all day, you can simply select this box rather than input "Begins" and "Ends" information.

Additional, optional fields include:

Event For: Indicate whether or not the event is for a particular parent.

Pick-Up and Drop-Off Responsibilities: This will note which parent will be bringing and retrieving the child(ren) from the event. The start and end times for the event will be color-coded to indicate which parent is responsible.

Children: Indicate which children, if any, are involved with the event.

Location: Indicate where the event will take place.

Sharing: Events are set to shared by default. If you'd like to make it private so only you can see it, click the check box next to "Private Event".

Reminder: Set a reminder for yourself about this event.

Note: Add a brief note about the event in question.

Tap Save at the bottom-right corner of your screen to save your event. 
Editing or Deleting a One-Time Event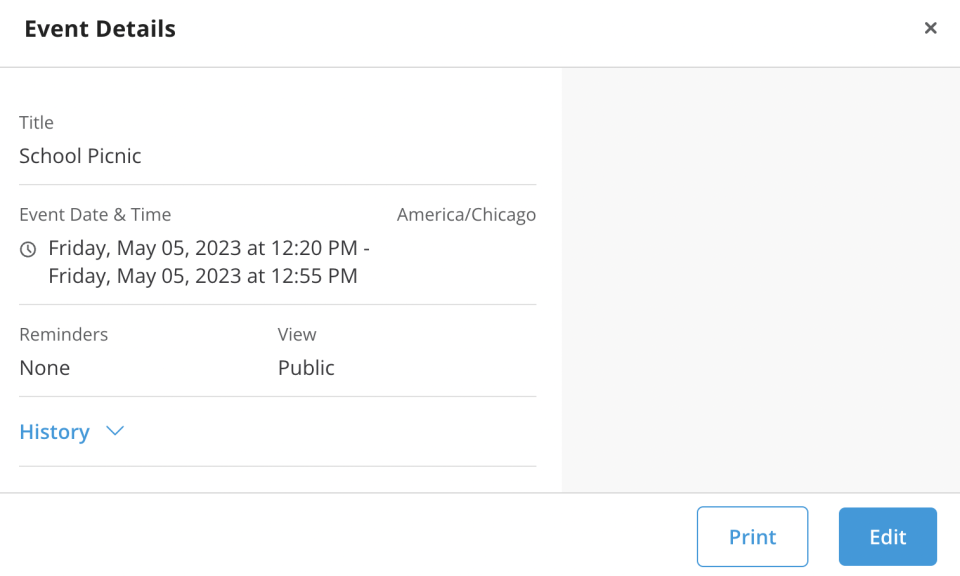 If you'd like to edit or delete a one-time event on the calendar, it must be an event that is still in the future. If the event has begun or has already passed, you will not be able to edit or delete it. 
In the main menu, select the Calendar icon. 

Find the one-time event and click on it.

Only the creator of an event can edit or delete it. Events that have already begun or are in the past cannot be modified in any way, even by the creator.

Edit: Tap Edit in the lower-right corner of your screen. Once you've made your changes, click Save to save the edits. One-time events cannot be updated to repeating events.

Delete: Tap Edit in the lower-right corner. Then select Delete at the bottom of the window. If this event was viewable to your co-parent, they will receive a Notification to alert them that this event has been deleted.
Why can't I delete an event?
There are two reasons an event cannot be edited or deleted.
Your co-parent parent or someone else created the event.  You can only delete or edit events that you have created.
The event has passed.  Once an event becomes historical, it cannot be edited or deleted on the website. This is done to protect the integrity of your information.
However, you can create journal entries in the calendar for both future and historical events.