Shared Parenting Schedules
A parenting schedule represents the general repeating pattern of your and your co-parent's parenting time as defined by your parenting agreement. To document your parenting schedule in OurFamilyWizard, you will use the Parenting Schedule tool. 
In this tutorial:
Creating a Parenting Schedule
In the main navigation menu, click Calendar.
In the menu on the left side of the Calendar, click Parenting Schedule.
Click on the New Schedule button located in the top-left corner of the Parenting Schedule window.
On the Create/Edit Parenting Schedule screen, create a title for your schedule.
Select the interval that best reflects the repeating cycle of your schedule.

For example, if you are on a "one week on, one week off" or bi-weekly schedule, select "2 Week" as your interval. See examples of common parenting schedules into OFW.

Select the date range for your schedule.

Your Begins date must be at least 24-hours from today's date.
Your Ends date will be when this schedule will no longer repeat itself (one year from now, end of school year, etc.).
Your ends date must be after your begins date plus the length of your selected interval. For example, if your begins date is the 1st and you are using a 2-week interval, your ends date must the 14th or later. 

Select the child(ren) to whom this schedule pertains.
In the mini-calendar, use the drop-down menus on each date to select the parent with whom the child(ren) will spend the night.

Click the time boxes to customize your scheduled exchange times.
Parenting schedules only note overnight parenting time. Mid-day visitations will be scheduled to your calendar as either one-time or repeating events.

Click Save, and your schedule will be viewable on the dates you have assigned it to.
Editing or Deleting a Parenting Schedule
Either parent can edit or delete any existing parenting schedule with upcoming dates. For one-time parenting time modification requests, consider using the Trade/Swap™ tool.
Editing a parenting schedule
On the Calendar, click on the Parenting Schedule button on the left side of the screen.
Under the 'Options' column, click the Edit icon. This icon look like a piece of paper and a pencil. 
Make your edits to your schedule, then click Save.
The parenting schedule will be modified on all upcoming dates; however, it will retain its previous settings on dates that have already passed.
Deleting a parenting schedule
In the parenting schedule window, locate the schedule you'd like to delete. Under the Options column, click the Delete button. This button looks like a red circle with a white line in the center.
Your parenting schedule will be removed from all upcoming dates. You cannot remove a parenting schedule from dates that have already passed.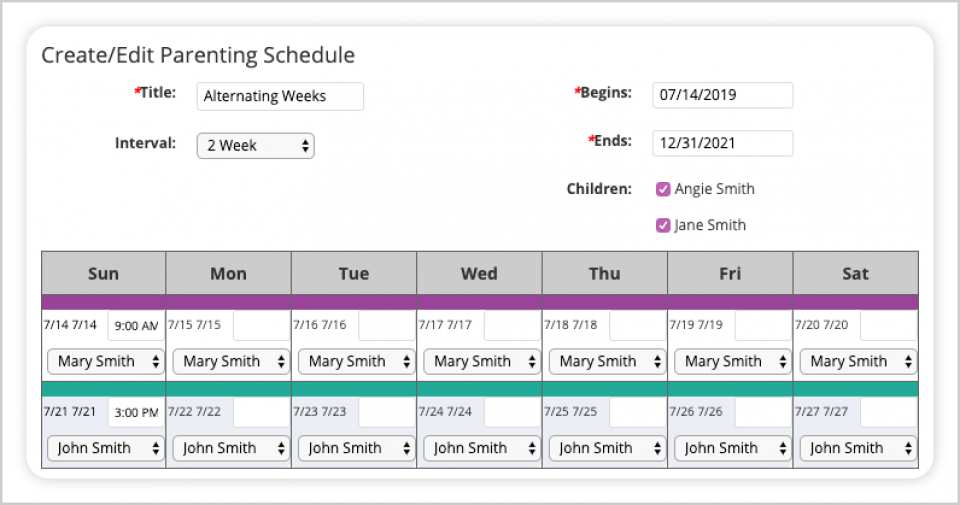 Alternating Weeks Rotation
Parenting time rotates weekly between parents.
Schedule Interval: 2 weeks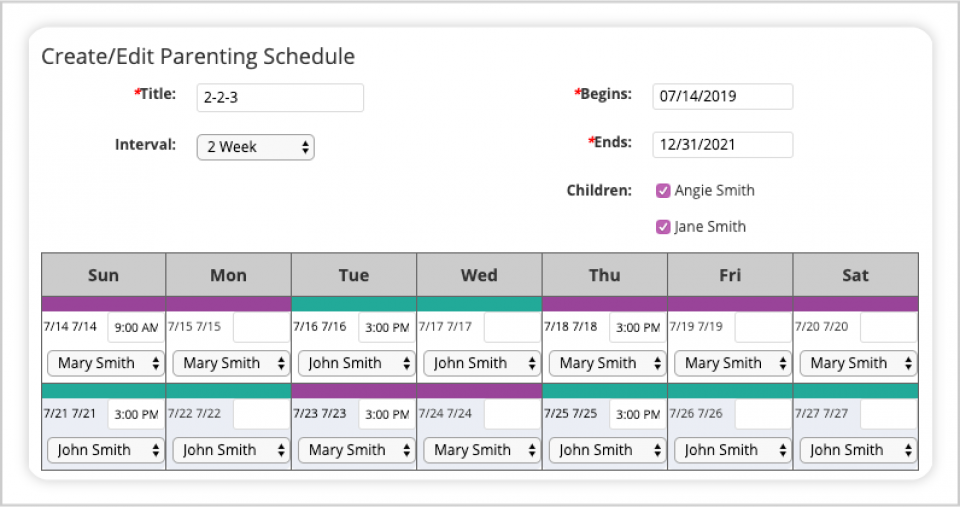 2-2-3 Rotation
Two nights with one parent, two nights with the other parent, then parents rotate 3-day weekends.
Schedule Interval: 2 Week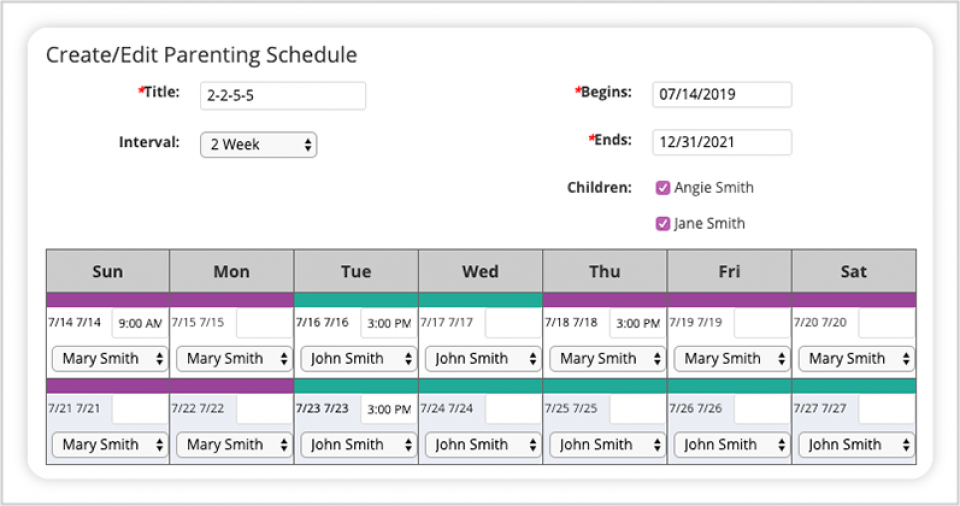 2-2-5-5 Day Rotation
A rotation of two days with one parent, two days with the other parent, five days with one parent, five days with the other parent.
Schedule Interval: 2 Week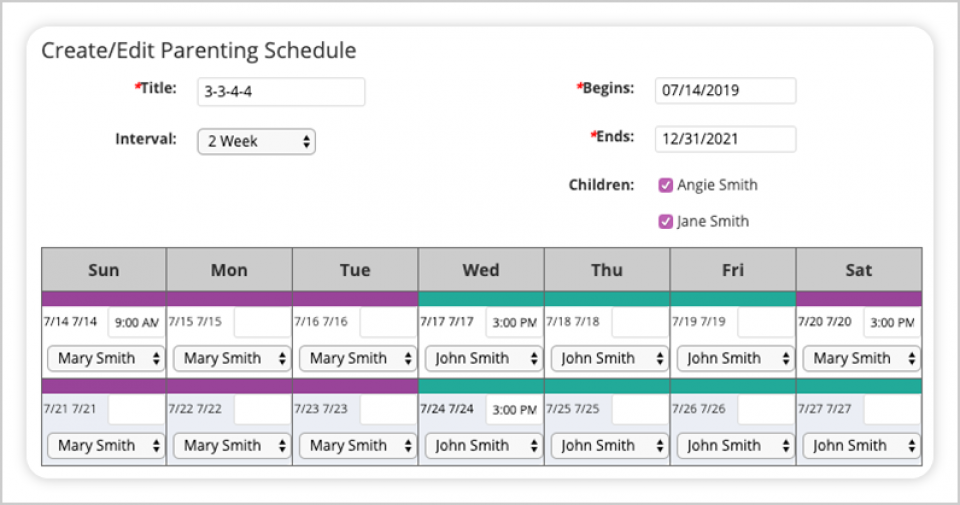 3-3-4-4 Day Rotation
A rotation of three days with one parent, three days with the other parent, four days with one parent, then four days with the other parent.
Schedule Interval: 2 Week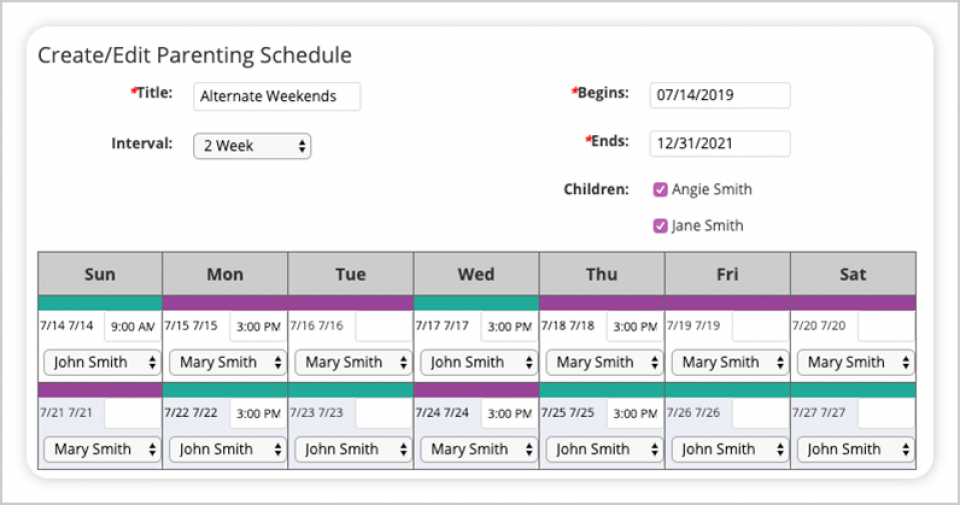 Alternating Weekends with Mid-Week Overnight
Parenting time exchanges occur every weekend with one mid-week overnight rotated between parents. 
Schedule Interval: 2 Week
Related articles