Purchasing a Subscription for Your Co-Parent
If you have already signed up and activated your subscription on OFW® but your co-parent has not, you have the option to purchase a subscription to activate their account. While you can always reach our Customer Support team to pay for your co-parent's subscription over the phone, you can easily make this purchase within your account via the full version of the website.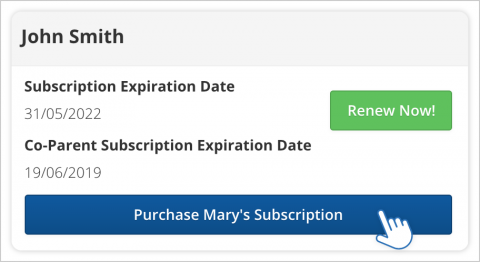 Activating Your Co-Parent's Subscription
In the main navigation menu, click My Account.
Click Billing.
In the Subscription Information box, review the information under "Co-Parent Subscription Expiration Date." It will say "Never Activated" if your co-parent has not activated their subscription yet, and you will see a button that you can click to purchase their subscription. 
In the payment window, select the subscription length or package you wish to purchase for your co-parent. Click here to view subscription options.
Follow the steps to complete payment for their subscription. Once purchased, we'll notify your co-parent that you have activated their subscription.