Printing the Calendar
You can easily download or print a copy of your OurFamilyWizard Calendar from your home computer. Learn how with this tutorial.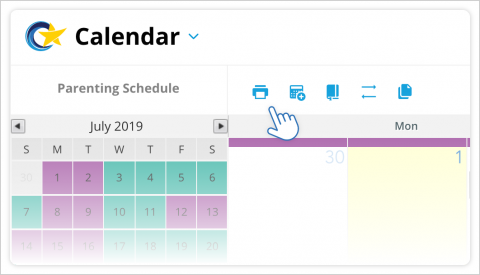 In the main navigation menu, click Calendar.
Select the month and year that you wish to print by using the left and right arrows located around the month and year title directly above the calendar OR by using the left and right arrows located at the top of the mini calendar located to the left of the main calendar.

You can also use the Day, Week, Month or Year View options to print your calendar by day, week, month or year.

Once you have selected the time frame that you wish to print, click the Print icon located at the top-right of your screen.
A PDF will be downloaded to your computer. This file contains a printer-friendly version of the calendar that you may choose to print. You may print this just as you would a normal PDF file.