Repeating Events
Learn how to create, update, and remove recurring events on the mobile app with this tutorial. For instructions on managing one-time events, click here.
In this tutorial:
Creating a repeating event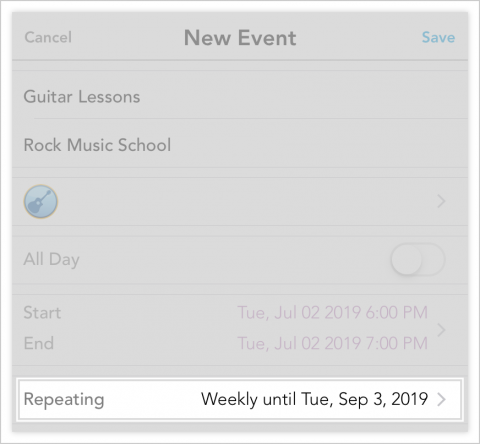 From the Add Item menu, tap Event. 
Complete all the required fields. This includes a title for the event, a beginning date and time for the event, an ending date and time for the event. All other fields are optional, but you are encouraged to fill out these fields.
Click on the Repeating field and set the repeating pattern.

Choose a repeat cycle (daily, weekly, biweekly, monthly, yearly) and an "Until" date. This will be the last date that this event is scheduled to repeat. 

Tap Save in the top-right corner of the screen to save the event.
Editing or removing a repeating event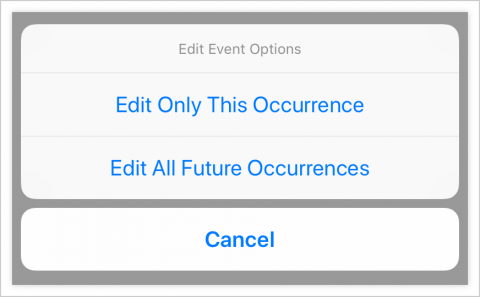 Only future instances of a repeating event can be edited or deleted. If an occurrence of a repeating event has begun or has passed, that one instance may not be edited in any way.
When viewing your Calendar, locate and tap on the event you'd like to edit or remove. 
To edit the event, tap Edit at the top-right corner of your screen. If you wish to delete the event, tap Delete Event at the bottom of your screen.
You'll see two options when you choose to either edit or delete a repeating event.

Edit/Delete only this occurrence: Make changes or remove only this single instance of the repeating event. All other occurrences of the event will remain unaffected.
Edit/Delete all future occurrences: Make changes or remove this instance and all upcoming occurrences of the repeating event. Occurrences before the event you are editing will remain unaffected.
Note: You cannot edit the repeating pattern or duration settings for recurring events. If the repeating pattern or duration needs to be updated, delete all future instances of the event and recreate the entry.
Why can't I delete an event? 
There are two reasons an event cannot be edited or deleted.
Your co-parent parent or someone else created the event.  You can only delete or edit events that you have created.
The event has passed.  Once an event becomes historical, it cannot be edited or deleted on the website. This is done to protect the integrity of your information.
However, you can create Moments in the OFW Journal to document details about historical or upcoming events.