Updating Your Account Password
Learn how to update your OurFamilyWizard account password via the OurFamilyWizard mobile app with this tutorial: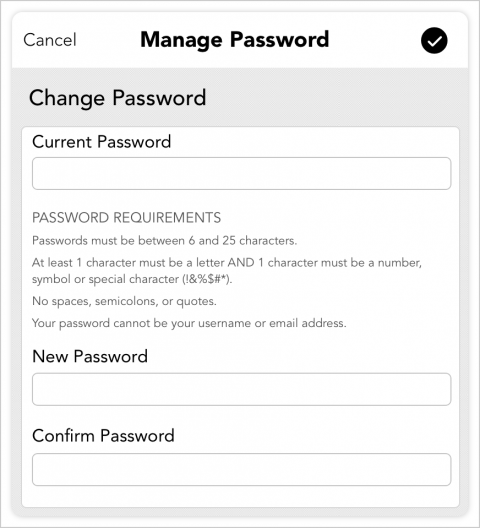 In the app's main menu navigation, tap the Home icon. Next, tap Security.
In the Password Management field, tap 'Change Password'.
In the Manage Password screen, enter your current password.
Create a new password for your account and then re-enter it into the Confirm Password field.
Passwords must meet the following requirements:

Passwords must be between 6 and 25 characters
At least 1 character must be a letter AND 1 character must be a number, symbol, or special character (!&%$#*)
No spaces, semicolons, or quotes
Your password cannot be your username or email address

Tap Save in the upper right corner to save your new password. 
Once saved, your password will be updated. This will update your password on both the app as well as the main version of the website that you access via an internet browser.