Creating new accounts for clients
With your OurFamilyWizard Practitioner Account, you can ease your clients' sign-up process by creating their accounts for them.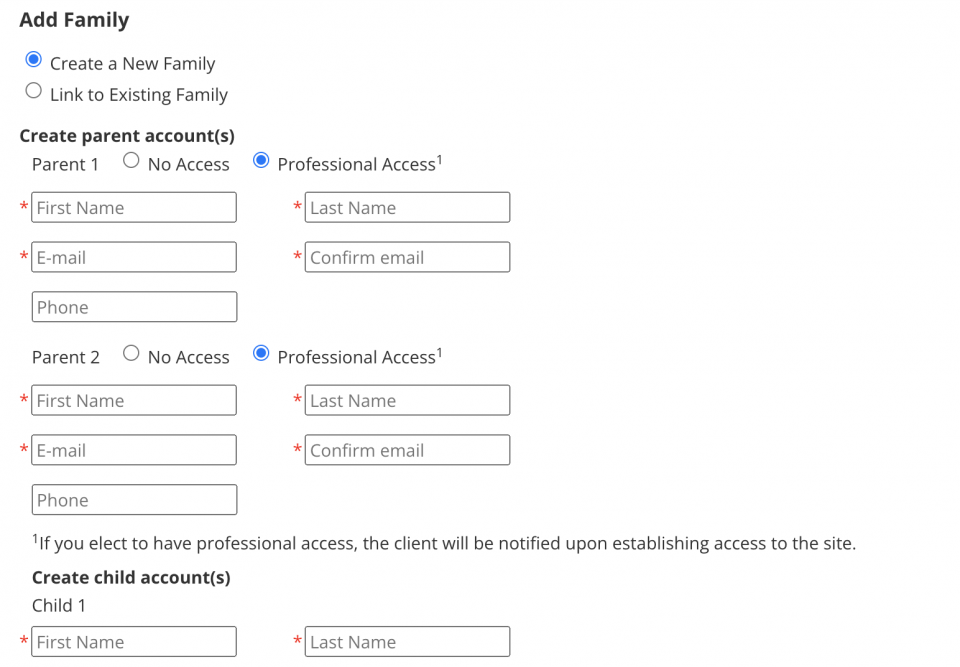 From My Cases, click the Add Family button. 
The Add Family form will pop up and Create a New Family will be selected by default. 
Enter the names of both parents and provide the email address of at least one of them. Phone numbers are optional but recommended. 

Note: When you create accounts for clients, the OurFamilyWizard customer support team reaches out by phone and email to aid parents in getting signed in and started. To help with this process, please provide as much contact information as possible for both parents.
For each parent, decide whether you wish to have professional access to their account using the radio buttons above their names. 
Enter the name of at least one child. 
Click Continue. 

Note: If you receive an error message that states we are having trouble creating your client's account, it's likely that they already have an account on OurFamilyWizard. If this happens, contact our customer support team for assistance. Proceeding with the account creation will create duplicate accounts and make it more difficult for you to get connected to your clients in a timely manner. 
If you do not wish to pay for the parents' accounts, click Create Accounts and Send Requests. Parents will be provided with two free log-ins and can activate their subscription either through their account or over the phone. 
If you do wish to pay for one or both parents' accounts, read our walkthroughs about paying for parent accounts.
Once the accounts have been created, the parents for whom you've provided an email address will receive a message with their login information and instructions for getting started.