Viewing client activity on OFW
Back to Family Viewing overview
Once you have professional access to your client's account on OurFamilyWizard, you can quickly review their communication histories directly through the OFW Family Law Practitioner app. Use these walkthroughs to learn how to use this powerful tool.
In this tutorial:
Why should I use client view mode? 
On OurFamilyWizard, we never recommend that parents share their login information, even with the family law professionals they trust. That's because of the high level of documentation that the OFW website and apps keep about any and all activity within OFW parent accounts. If practitioners log into their clients' accounts to retrieve records and review communication, they are creating unchangeable records that do not distinguish between their actions on the site and their clients'. 
Instead, with OFW Professional Access, you can safely view your clients' accounts, download reports, and more—all without fear of altering their account histories.
Accessing client view mode
From the app menu, tap Select a Family. 
From the list of families that populates, select the family you wish to view. If you have access to both parents in the family, you must also select from which parent's viewpoint you wish to see the account. 
Once you are viewing your client's account, expand the menu to navigate to different sections of the app.
To exit family viewing, simply tap Exit Family Viewing in the blue bar at the bottom of the screen at any time. You can also exit family viewing from the app menu. 
What will I be able to see in client view mode through the iOS app?
Once you have been granted professional access, you will be able to see:
All public entries for every tool, such as events, expenses, and parenting schedules.
All messages sent between clients and other users on the account
All shared entries in the Journal, including both moments and check-ins
If you have been granted access to both parents in a family, you will have additional permissions to create certain entries through client view mode. Read our tutorial on creating entries for clients.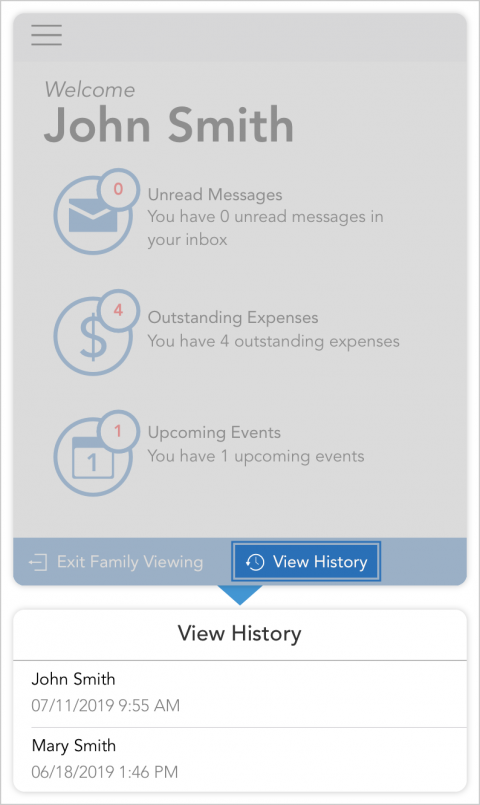 Every feature in an OFW parent account tracks the last time it was viewed by family members with OurFamilyWizard parent, third-party, and child accounts. To view these timestamps,
Tap View History located in the blue bar at the bottom of the screen. 
Date and times show the last time that individual feature was viewed. If an account has never viewed that part of the account, you will see Never. 
Note: View history is not a login history. View histories do not show you the last time a parent has logged into their account. It only shows the last time a parent viewed that particular section of the account.