Messaging Basics
Sending messages on OurFamilyWizard is different than your standard text messages or emails. Enhanced with features specifically crafted for co-parenting needs, OFW Messages keeps communication clear while safeguarding records from manipulation or deletion. Learn the basics of sending messages through the OFW mobile app with this tutorial. 
In this tutorial: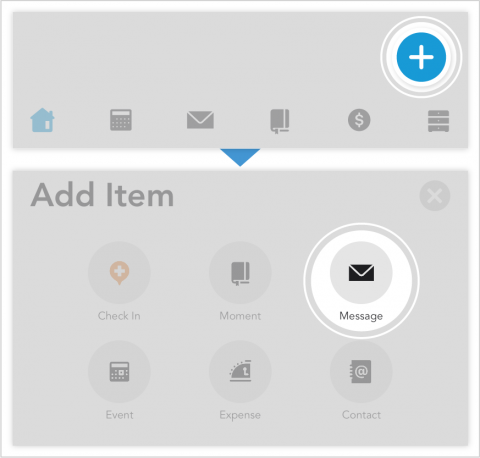 Sending New Messages
Messages can be sent between co-parents, children, third-parties, and connected practitioners. To send a message,
In the Add Item menu, tap Message.
Select to whom you'd like to send the message, provide a subject, and type your message.
Tap Send to send your message or tap the back arrow to see the option to save the message as a draft. 
Replying to Received Messages
If you've received a message on OFW, you can reply to it by taking the following steps: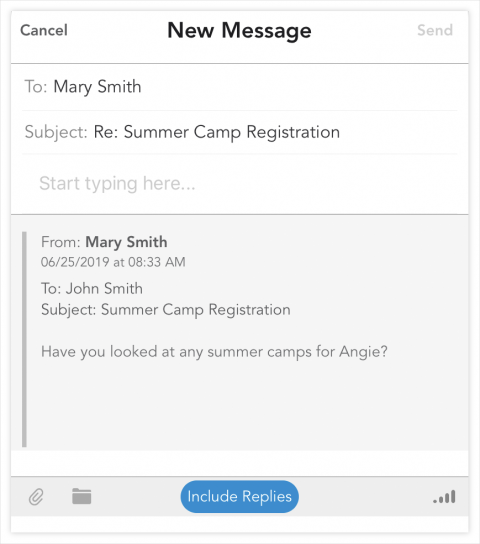 Navigate to the Inbox folder of your Messages.
Find the message you wish to reply to and tap to open it. 
In the bar at the bottom of the screen, tap the single arrow icon to reply to the person who sent you this message. If the message was initially sent to multiple recipients, tap the double arrow icon to reply to all.
Type your reply in the field that says 'Start typing here...'. 
Tap Send to send your message or tap the back arrow to see the option to save your reply as a draft. 
Message Attachments
Learn how to add attachments to a message you are composing as well as how to view attachments to messages you have received.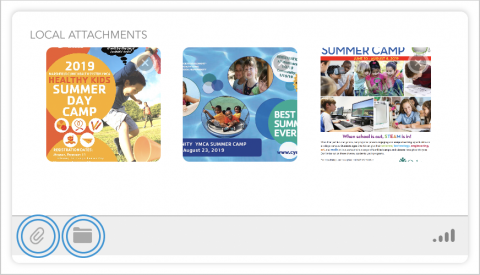 Adding Attachments to a Message
You can add one or multiple attachments to any message you send on OFW. To do so, follow the initial steps of sending a new message or replying to a received message.
Once you've reached the New Message window and are composing your message, tap one of the following options to add attachments:
Paper clip icon: This option allows you to attach images from your phone's camera roll or from your iCloud Drive.
Folder icon: This option allows you to attach files already saved to the MyFiles section of your account. Learn more about how MyFiles works in this tutorial.
All attachments that you've added to a message will be viewable towards the bottom of your screen. You can remove attachments by tapping the X at the top-right corner of each attachment.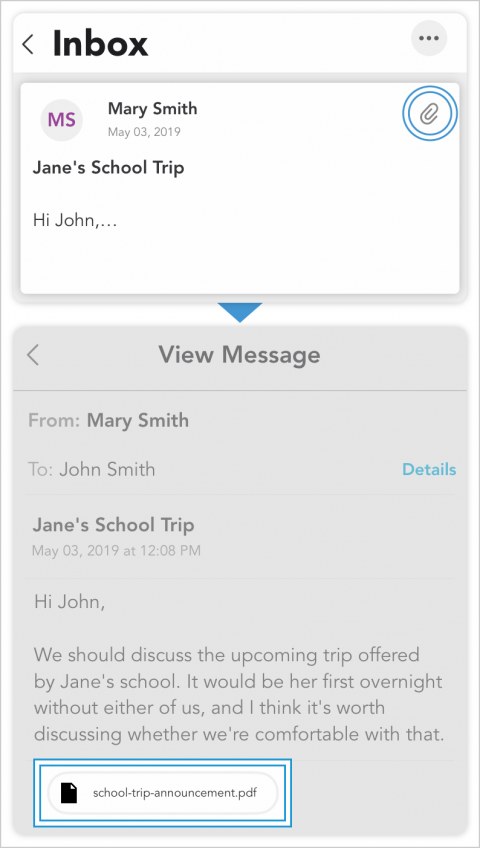 Viewing Attachments
Any message you've received which has attachments will be viewable in your Inbox with a paper clip icon. Once you tap the message to view it, you can then tap any of the attachments you see at the bottom of your message to open and view them.
To download or print images, tap the arrow icon at the top-right corner of your screen. Your phone will present you with options to save the image, print, or export to other apps.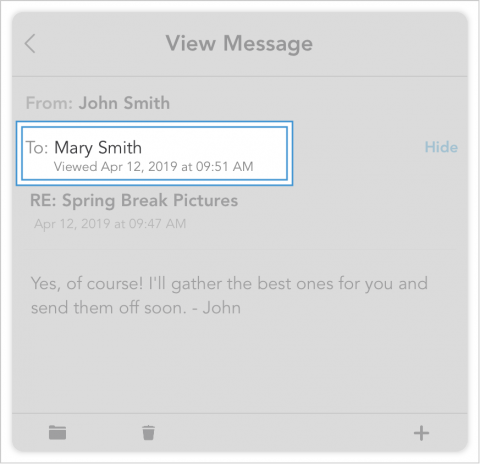 How to Tell If a Message Has Been Viewed By Your Co-Parent
You can always tell when your co-parent has first viewed a message that you have sent to them. To tell if a message has been viewed, follow these steps.
In the app's main navigation menu, tap the envelope or Messages icon.
In your list of folders, tap Sent.
Locate the message in question. Tap to view the message in full detail.

In the "To" field, tap the Details link.

If your message has been viewed, the date and time that the message was first viewed will be listed.
If your message has not been viewed, it will say "Never". It will remain at this status until the time that the message is viewed.