Custom Expense Categories
Whenever a new expense is created, parents must assign it to an expense category. Categories determine how expenses will be split between co-parents while also easily grouping related expenses for simpler reporting. 
There are four preset categories in your account that are entirely optional to use: General (50/50), Medical/Dental (50/50), Other (50/50), Personal (100/0). 
You can also set up custom categories to break down expenses based on the percentages of responsibility that you and your co-parent use for different types of expenses. Learn how to create custom categories on the OFW mobile app with this tutorial.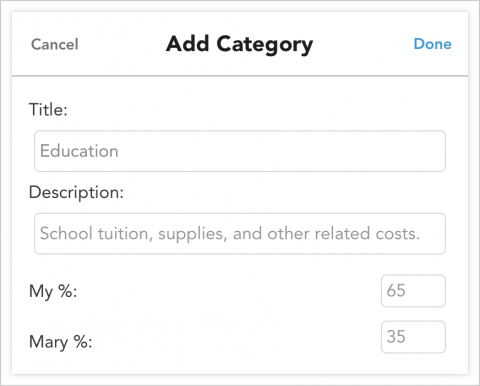 How to Create a New Custom Category
From the app's main navigation menu, tap the dollar sign or Expense Log icon.

Tap on the "+" add item icon and select Category.

Complete the required fields:

Title: Title for your category

Description: A few words to describe what this category should be used for

My %: Enter your percentage of responsibility for this expense. Your co-parent's percentage will be automatically calculated based on what you enter.

Tap Done at the top-right corner of your screen. 
Once saved, you and your co-parent will see the category as an option when creating new expenses.
Note: You can edit or delete custom categories that you have created up until they are used when creating an expense. Once a custom category has been associated with an expense, it cannot be edited or deleted.