How cooking helps children's emotional development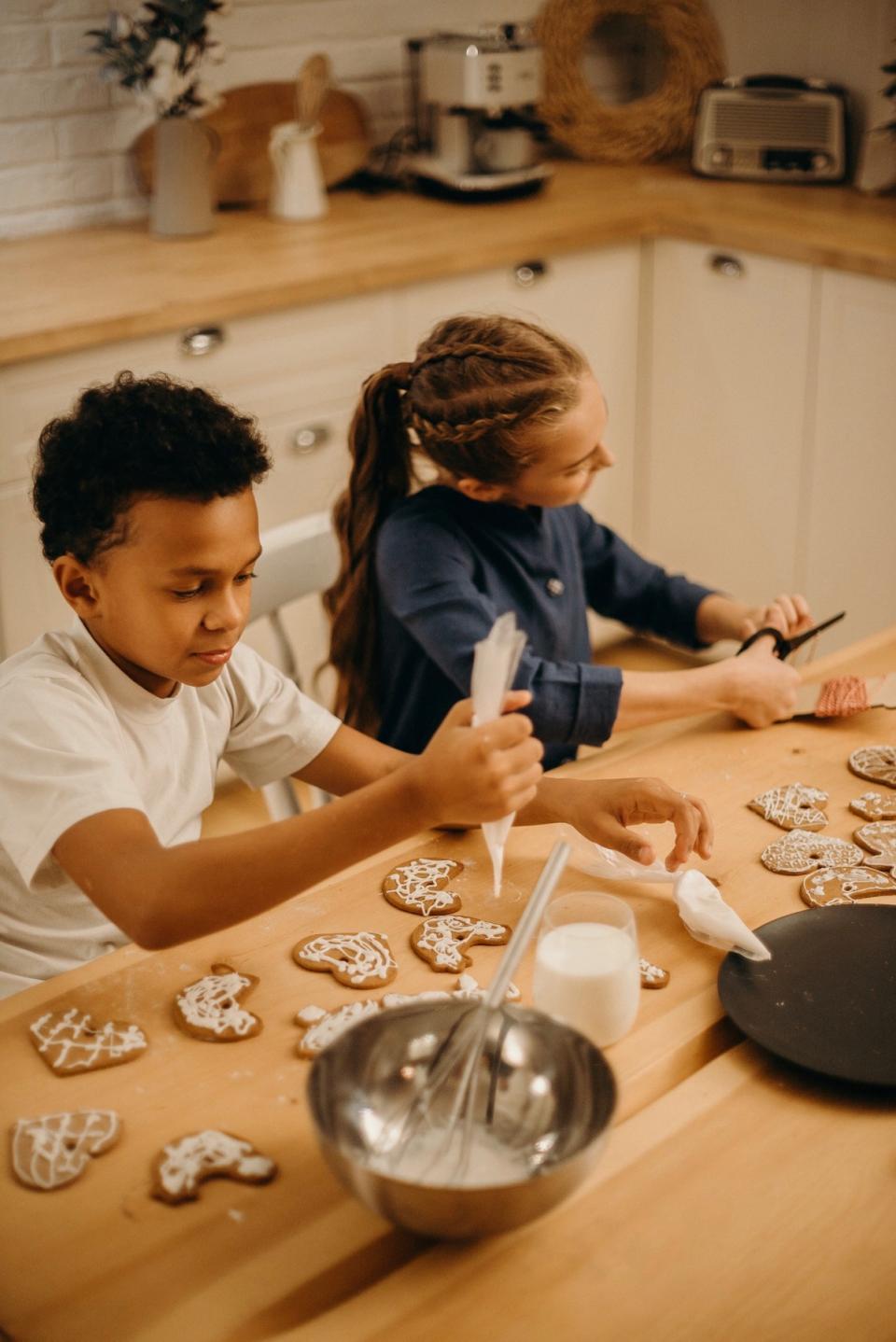 The kitchen is a great place for children to try new things, explore and develop a whole raft of skills without external pressure and influences. And just like play in the rest of the house helps development, so too does play in the kitchen.
Children often love to be in this heart of the home, so take advantage of this. You can use cooking as an opportunity to help your child develop their social and emotional skills.
Encouraging children to help out in the kitchen also gives you an opportunity to spend quality time together. Plus, when you get it right, it can be super fun.
Before we look at specific ways cooking can aid children's emotional development, here are a few practical tips to help you make it interesting and safe:
Make sure food is handled in a sanitary fashion. Teach your kids about washing hands and what to do when handling ingredients like raw meats.
Ensure the area is safe and set guidelines. Rules, like not touching the oven and not doing anything without supervision, are all age-dependent and need to be established at the outset. For example, sterilizing jars in a microwave is key to keeping jams and chutneys safe to eat for longer, but it's a job for parents.
Talk to your kids… a lot. Spark conversations about what you're cooking, where it comes from and why it needs to be prepared a certain way. Ask them questions and let them ask you, too.
Remember you're a model for behaviour. Be aware of what you're doing, as children tend to observe and copy rather than simply follow instructions.
Keep it simple to start. It could be as straightforward as making a sandwich. Begin with tasks that are easily achievable and build up as you go.
Let them experiment. Once they've got a good grasp of safety and general cooking processes, let creativity run wild. As long as it's safe, give them the chance to explore different ingredients, combinations and recipes – they'll love it!
These are just some tips to make cooking with children easier, but be sure to brainstorm any other sensible guidelines that could be helpful for your kitchen and your kids. That's the practical side sorted! Now, onto five ways that cooking can really help with children's emotional development.
Express love
Cooking is a great way of spending time with your kids. It gives them a chance to spend time with you, too. There's nothing that builds a bond better than that. Not only does it give you a chance to enjoy them, but it also gives your little ones the opportunity to show you their love.
Patience
Cooking is all about patience. Patience when things go wrong, patience when waiting to be told when they can help with and patience waiting for their masterpiece to cook. The more patience children develop early on, the better they'll be able to deal with waiting as they get older.
Confidence
Learning a new skill is a great way of developing a child's confidence. There's nothing more satisfying than knowing you've played a huge part in the success of an end result. And that goes double with kids. Go heavy on the praise and let them know what a great job they've done. Also, things can go wrong when you cook, so they can learn how to cope with disappointment and overcome the knocks.
Problem-solving
Part of building confidence is learning problem-solving skills. As kids develop reasoning and the ability to think of alternative methods, they'll be able to overcome problems more easily and feel more like they can achieve their goals. Cooking creates all kinds of potential issues, so when you help little ones work their way through, it's satisfying for them and reassuring that the next time they face a problem, they can solve it.
Responsibility
When you start off cooking with kids, they'll be involved in a lot of simple tasks – partly so it's easier for you to teach, and partly to make sure everything is done in a safe manner. The more cooking you do together, the more tasks you can give them responsibility for. For example, when sterilizing jars in a microwave, it could be that they start off by just pushing the button, but after a while, they can do more.
As you can see, cooking can advance children's emotional development in so many ways. Whether it's the confidence to get things wrong and learn from that, or using problem-solving skills to deal with conflicts, they can take what they learn in the kitchen to the outside world. This is a chance for you to help your child learn and develop, and have a great time too. Happy cooking!
Author's Bio:
Eleanor Cains enjoys writing about parenting, child behaviour, and the transformative power of cooking.