Family-Friendly Activities to Cure Wintertime Cabin Fever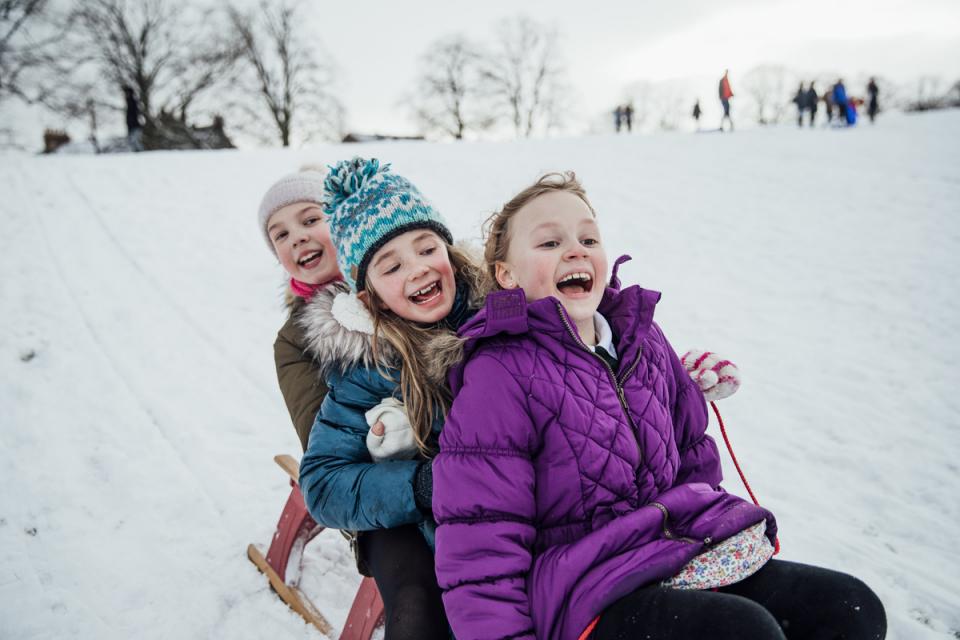 Winter can bring the homebody tendencies out in all of us. After all, it's hard resisting the siren call of a comfy couch with a warm blanket when just glancing out the window causes you to shiver. But if you have children with energy to burn, being stuck inside your home, no matter how cozy, can make the long winter months feel even longer.
Parents will need a healthy repertoire of crafts, activities, and adventures to keep themselves and their children active during the winter. So if you're wondering where to start, the following fun winter activities are all either free or relatively low-cost.
When the weather is prohibitively cold or nasty, check out our list of suggested indoor activities that will engage your children and prevent them from falling into a sub-zero slump. When the weather is milder, or when you're feeling particularly brave, explore the many different outdoor winter adventures that will keep your family active. Finally, when you are feeling stir crazy, but only want to encounter the outdoors on your way from point A to point B, delve into our ideas for low-cost excursions that provide ample motivation to get out of the house.
At Home
Some days are made for staying indoors!
Engage in some friendly competition
Whether you couch co-op your favourite retro side-scroller or attempt to master your child's latest and greatest gaming obsession, a little friendly competition can warm up your family on even the coldest day.
Traditional or themed movie marathon
If your children enjoy a particular franchise, like Harry Potter or Star Wars, planning a special movie marathon is a great option for particularly chilly days. If your child doesn't have any strong feelings about a particular series, opt for a themed movie marathon instead. Pick a favoured topic—like robots, animals, or space—and build a lineup of kid-friendly flicks featuring that topic.
A movie marathon can involve more than simply glueing your eyes to the screen, too. Consider embellishing the activity by including themed snacks or costumes.
Handmade crafts: Knitting and Crochet
Knitting and crochet are two of the most popular crafting choices out there. There are many free patterns available online, plus a plethora of youtube videos showing you all the necessary techniques if you ever get stuck.
Create a one-of-a-kind game
Older children who enjoy playing board, card or party games can stretch their creative muscles and beat back winter boredom by creating a new game of their own. If you have a moderately stocked craft cabinet, you likely have all you need to create a simple board game from scratch. Otherwise, select one of the many DIY game kits out there and get started!
Outdoors
Winter nature walk and scavenger hunt
Winter may not be the first season that springs to mind when you consider taking a nice stroll through your local park, but don't write it off completely! There's still plenty for your children to explore during the coldest months.
Consider creating a nature scavenger hunt to accompany your outdoor excursions. Have your children search for items such as pine cones, squirrel nests, winter birds, animal tracks, and more. When you get home, round out your nature walk by having them draw some of the things they observed while you were out.
Snowshoeing
If you live in an area blessed with ample snow and are ever in search of an activity that will tire out even the most rambunctious of children, snowshoeing is the thing for you. Many park districts located in areas with significant snow. Some even offer group excursions if you and your kids are hesitant to strike out on your own at first.
Snowshoeing may not be the right fit for your child, but there are plenty of other active outdoor pastimes from which to choose. Sledding and tubing are perfect for more adventurous children. Ice skating or hockey are great options for kids with extra energy to burn. And if you have a backyard, building snowmen and forts are both active and creative ways to pass the time.
Winter festivals
While summer may reign when it comes to fairs and festivals, winter has its fair share of outdoor events, often dedicated to one of the many sports or activities that can only be enjoyed during the coldest time of the year.
Here in Minnesota, families eagerly anticipate the opening of the Winter Carnival, Icebox Days, and the U.S. Pond Hockey Championships. Find a festival in your town that piques your interest, pack some hand warmers, and brave the cold!
Out and About
These activities are perfect for when your kids need to get out of the house, but you're not ready to face the cold for extended lengths of time.
Find events at your local library
Libraries are a treasure trove of knowledge, entertainment, and activities. If you're lucky enough to have one in your neighbourhood, make a note to check their events calendar for activities like story time, children's writing workshops, and more.
Go to an indoor playground
For when your child has abundant energy and could benefit from running at full tilt, indoor playgrounds are a great solution when the weather prevents them from exercising outside.
Depending on the size of your town, you may have more options beyond the traditional indoor playground. Obstacle courses, bounce house emporiums, and trampoline centres are all great options for when your kids are experiencing acute cabin fever.
Go to a museum
Children's, art, and science museums often have varied programs aimed at a whole range of ages. Look for programs with interactive elements built to engage young minds and bodies.
Be sure to check if your local library system has a partnership with area museums. Many libraries have passes available on a first-come, first served basis that allow for free or discounted entry into participating museums and attractions.
Fighting the urge to hibernate this winter may be a struggle, but there are many indoor and outdoor options available for staying active. That being said, we know that some days, curling up on the couch with a good book or your child's favourite movie may very well be the best option!